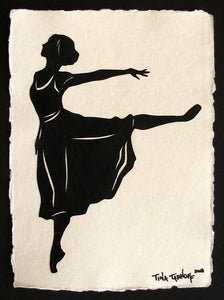 Tina Tarnoff
MARGOT FONTEYN Papercut - Hand-Cut Silhouette
Regular price
$72.00
$0.00
"Great artists are people who find the way to be themselves in their art. Any sort of pretension induces mediocrity in art and life alike."
"Life forms illogical patterns. It is haphazard and full of beauties which I try to catch as they fly by, for who knows whether any of them will ever return?"
~ Margot Fonteyn ~
Margot Fonteyn, one of the most famous ballerinas of the second half of the 20th century and a dancing partner of Nureyev. 
This is an original Papercut, an art form in which an entire image is hand-cut from a single sheet of paper. The artwork is mounted on beautiful, Indian cotton rag paper, then displayed on a sturdy 11" x 14" black mat. It's ready to be placed into a frame, if so desired. Each piece includes a unique certificate of authenticity.
This is an original artwork, not a print. Each piece is entirely handmade, signed and dated. Due to the handcrafted nature of this artwork, each piece may have subtle differences.
The mounted artwork comes in a protective, archival-quality, cellophane sleeve and will be shipped to you with the utmost care.
Part of my "Great Dancers" series, it is also available in black or white wood frames with glass fronts - see under my framing service offer.
"Being Margot" looks great alone or together with Isadora, Martha, Anna, and Maya. Check out my special offer for all five.
---
Share this Product
---
More from this collection